Listen to songs on the Classic CD here!
See backstage interviews from the taping of David Phelps: Classic here.
Order David Phelps: Classic here!

Experience an evening with David Phelps as you have never seen him before in his brand new live DVD and the accompanying studio CD. The DVD and CD are both entitled Classic and are available in stores now!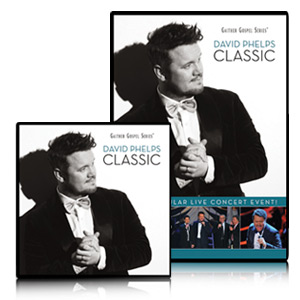 Details about the DVD and CD: The eclectic collection of music contained in this brand new live DVD and the accompanying studio CD shows the broad range of David's musical ability. Just as a painter paints with all different colors and textures to achieve cohesive beauty, David Phelps draws from a colorful musical palette that includes centuries-old hymns, classical arias, American favorites, Broadway standards and fresh, self-penned originals. The result is a captivating evening of world-class music by one of the most-loved voices in gospel music.
Watch a video sneak peek of the Classic Live DVD by clicking the viewing box below.
David joined Bill and Gloria and the production staff at Gaither studios for our first look the newly edited DVD. Here are a few photos taken that day.

Gloria & David David, Chad & Doug Gloria & David
For an online album of behind-the-scenes photos from the taping of Classic, click here.
Click here to read the official press release on David Phelps Classic.