Family Fest 2021 – Information
Many of you have contacted us with questions about Family Fest 2021 so we are answering some of those questions below.   In addition, we have included information from the Convention Center in regards to their COVID-19 Preparedness.
Frequently Asked Family Fest 2021 Questions:
 Is Family Fest 2021 still happening?  Yes.  Please be aware that interaction with the general public poses an elevated risk of being exposed to COVID-19.  We cannot guarantee that you will not be exposed while in attendance at this event.  We encourage you to follow safety protocols such as wearing a mask, frequent handwashing and maintaining social distance, when possible.
Do you have a plan for social distancing?  It is very difficult to maintain a 6 feet social distance in our current seating configuration.  If you are uncomfortable sitting in your assigned seat, please request a refund in advance.  Hand Sanitizing Stations will be placed throughout the building.  No pass outs of materials such as flyers.  No ticket sales on sight to cut down on time spent standing in line. All tickets purchased will be mailed in advance.  We will NOT have a Will Call line to pick up tickets on site.
Will masks be required?  Yes.  Even though TN does not have an official mask mandate in place, the Office of the Governor strongly encourages the use of face coverings in all public places where close proximity to others is anticipated.  With this in mind and with our event attendance being of a larger crowd with limited social distancing in place, we will ask that everyone who attends wear a mask at all times while in the convention center. The only exceptions to this requirement will be those under age 2, for those who have trouble breathing or anyone unable to remove a mask without assistance.
Will the artist have product tables, sign autographs and take photos with us?  Will there be an autograph session?   We will not be having an official Gaither Vocal Band or Bill & Gloria Gaither Autograph Session.  Individual artists may choose to sell products at their booth and take photos.  Thank you in advance for your understanding.
I feel uncomfortable being in a large crowd.  Can I get a refund?  Although Family Fest is traditionally a non-refundable event, we will honor refunds requested before May 25, 2021.
How do I request my refund?  Please email customerservice@gaithermusic.com. with the name and address on the order plus a brief explanation for the request
Is it possible you will decide to cancel, and if so, what would be the latest date for this decision?  At this time, we do not have plans to cancel this event.  We cannot control what happens in the world, therefore the only reason we would cancel would be if the Local, State or Federal Government requires a limit on crowds which is not the case at this time.
I haven't received my tickets yet, when will they be sent?  You should have your tickets by the first of May.
---
Below is Information from the Gatlinburg Convention Center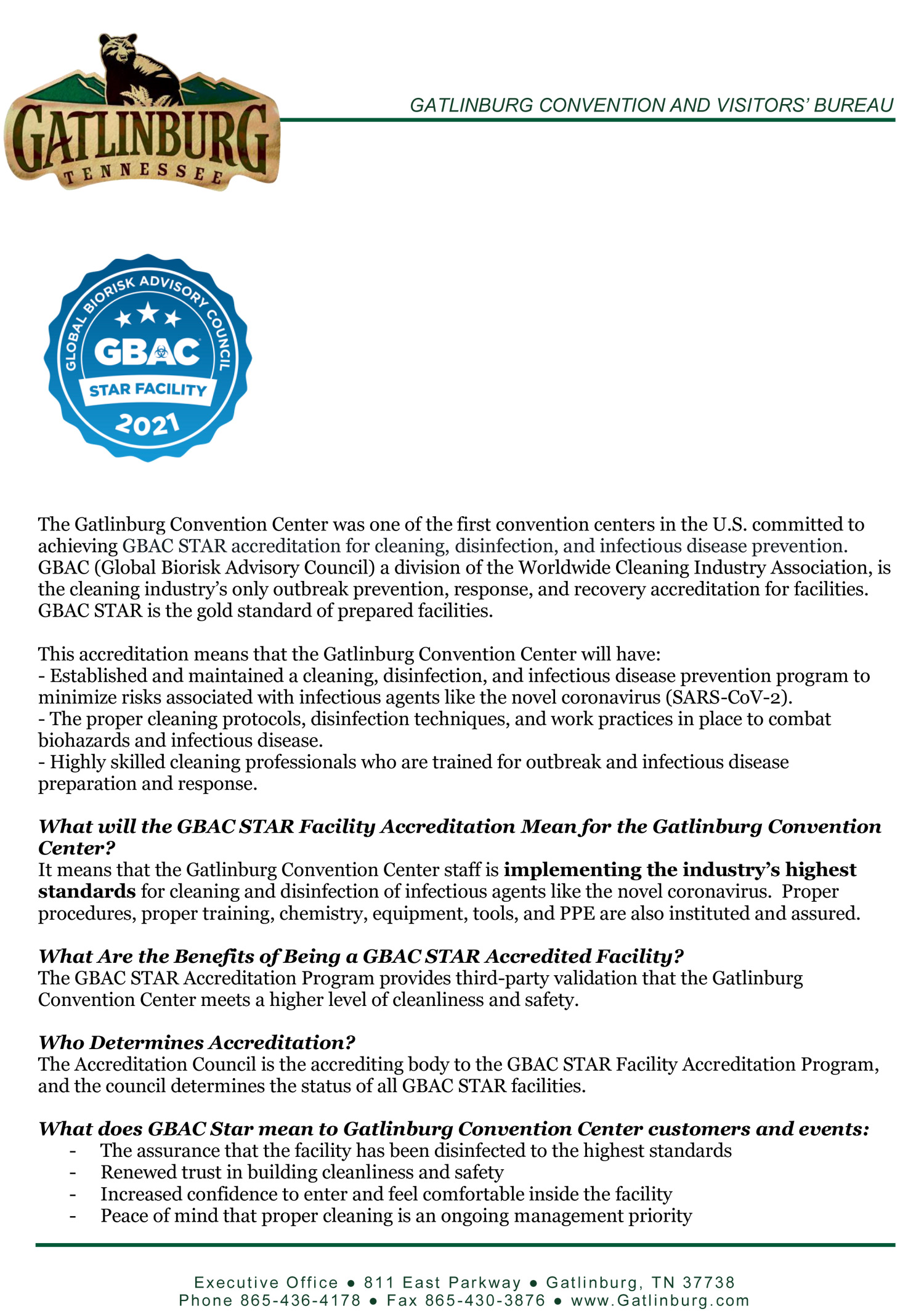 ——————————————
The Gatlinburg Convention Center has made proactive efforts leading up to all upcoming events regarding sanitization and safety protocols:

The Gatlinburg Convention Center has converted all processes in the restrooms to "hands free" including flush valves, soap dispensers, faucets, and hand dryers / dispensers.
There are hand sanitizer stations located at the entrances, in each restroom and in conspicuous places throughout the facility like on the columns in the Great Hall.
The Gatlinburg Convention Center staff has been re-trained on cleaning procedures with emphasis on germicidal and sanitizer use. The convention center has purchased extra Personal Protective Equipment for the staff, extra bloodborne pathogen kits, and virus prevention supplies.
The Gatlinburg Convention Center will continue to maintain all HVAC systems to increased ventilation rates, improve central air filtration, increase the fresh air brought into the building, and reduce the re-circulation of air. HVAC systems have MERV-13 air filters which are utilized in many hospitals.
Tennessee Pledge information posters have been posted in the restrooms and common areas to inform the public about the virus and proper hygiene procedures to prevent its spread.  
Convention center staff has been trained on what to do if they become sick before or during a shift or if a family member becomes sick.
Convention Center staff will have their temperature checked and/or answer questions before the start of each shift.
We have a plan in place to isolate a guest that becomes ill inside the facility as we wait for EMS. EMS has been trained to handle possible Covid19 patients.
Continuous sanitation throughout the Convention Center has been enhanced and increased in conjunction with the information listed above.
Floor stickers and signs will be placed throughout the convention center instructing and reminding attendees to socially distance.
Seating for any food court set up, audience, and other seating areas will meet the distancing guideline in place on the day of the event.
The convention center has acquired an electrostatic sanitization system that charges the particles causing them to adhere to surfaces for 24 hours. We will "fog" all restrooms that are part of an event daily before a show opens. We will still perform the accelerated restroom cleaning throughout the day. More information at https://victorycomplete.com/
The Gatlinburg Convention Center has received the GBAC Gold Star Certified Accreditation. GBAC (Global Biorisk Advisory Council) a division of the Worldwide Cleaning Industry Association, is the cleaning industry's only outbreak prevention, response, and recovery accreditation for facilities.  GBAC STAR is the gold standard of prepared facilities.  Attached is a document detailing this program and certification.

The Convention Center will meet or exceed the recommendations from the office of the Governor of Tennessee that are in place during all future events held in the Convention Center.