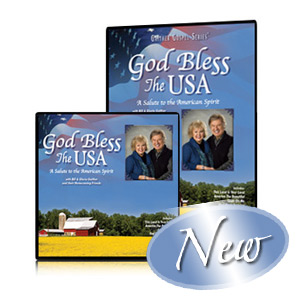 God Bless the USA is now in retail outlets across America! Hosted by Bill Gaither, God Bless the USA features a soul-stirring compilation of timeless Homecoming performances that honor the spirit of America with songs by Vestal Goodman, the Gaither Vocal Band, Bob Cain, and many other voices we love. Each song, in its own unique way, celebrates the things that make America great – faith in our Creator, freedom, community, patriotism, heroism… the list goes on and on!
Click here to listen to an AUDIO SAMPLER that features a few seconds of every song on the CD!
Watch the FREE SNEAK PEEK video below offering a glimpse of what you will see on the 90-minute DVD and order God Bless the USA here.
God Bless The USA Preview from Gaither.com on Vimeo.