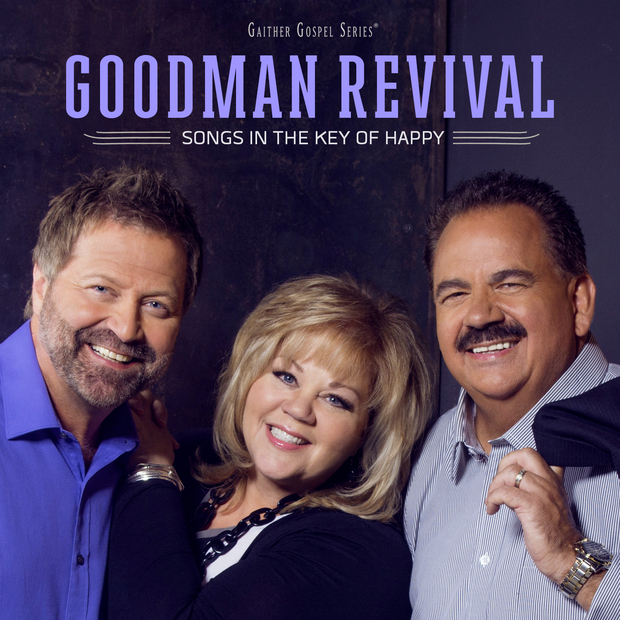 January 30, 2015
Press Release – Goodman Revival: Debut Release Songs in the Key of Happy Tops Sales Charts
Back to News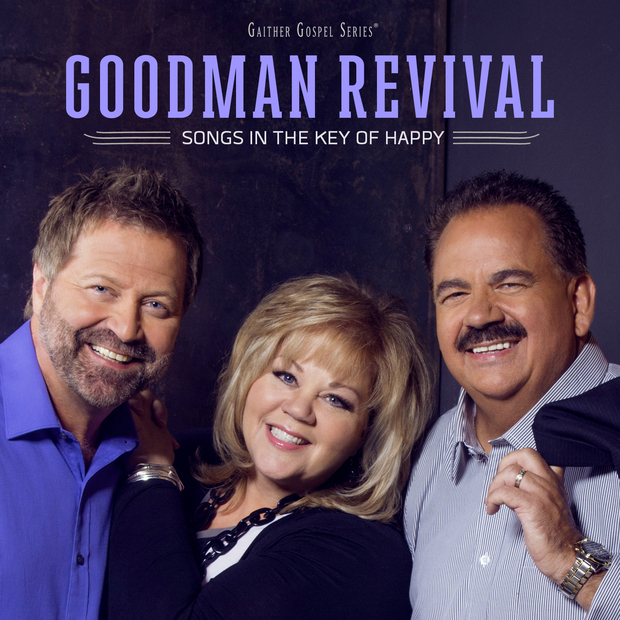 Goodman Revival: Debut Release
Songs in the Key of Happy Tops Sales Charts
Fans and Radio "HAPPY" to Hear "What a Happy Time"
Newly Formed Trio Launches Website
NASHVILLE, Tenn.—January 29th, 2014—Songs in the Key of Happy (Gaither Music Group), the debut CD release from newly formed trio Goodman Revival, landed at #1 on this week's Southern Gospel chart according to Nielsen Soundscan. In addition, the Songs in the Key of Happy DVDtopped the Christian Music Video chart.

The audio release also landed at #11 on the Contemporary Christian Music chart, and the DVD came in at #4 on the Billboard Music Video chart.
"I'm extremely excited about the way Goodman Revival is bringing these old favorites back to life," stated Barry Jennings, president of Gaither Music Group. "We are especially thrilled with the response we are getting from our television audiences who have been moved by the way Tanya, Michael and Johnny communicate these old classics in a fresh and powerful way. These songs hold a great deal of significance for people all over the world; and Goodman Revival has a gift for connecting with those listeners, as well as attracting a new generation of gospel music enthusiasts."
In addition to this week's recording launch, the group's debut single, "What a Happy Time," landed in the Top 80 chart of national monthly radio airplay after only two weeks of nationwide airplay. The song is in the Top 5 New Releases at 14 stations and is the #3 Pick Hit at six stations.
"I have believed in this song from the moment I heard Goodman Revival's new rendition of it," stated radio promoter Les Butler, of Family Music Group. "…and I am not alone in my enthusiasm! Programmers across the country have been excited to have music from this trio, and I am thrilled with the early numbers we are seeing surrounding this single. I've heard the smiles in their voices as they talked about how happy they were to add Goodman Revival to their playlists."
Songs in the Key of Happy finds Goodman Revival, of Smyrna, TN, paying homage to the music they grew up singing and hearing. The trio consists of Tanya Goodman Sykes, Michael Sykes andJohnny Minick, each of whom are seasoned Christian music veterans and past members of the legendary Happy Goodman Family singing group. This recording debut finds these familiar faces capturing the musical styles and heritage that have endeared them to countless people around the world for several decades.
Produced by Sykes and Minick, the new release features gospel classics such as
"I Wouldn't Take Nothing for My Journey," "This Is Just What Heaven Means to Me," "Look for Me," "I Hold a Clear Title to a Mansion," "Eyes of Jesus," "Until You've Known the Love," "Who Am I"
and other fan favorites as well as an all-new song,
"Settle the Score,"
penned by Minick featuring that "Goodman three-quarter time."
"Johnny has the entire discography," explains Goodman Sykes. "We sat down together and kept refining the list of songs. Each of us had our favorites, and we finally whittled the list down to 13 songs."
"As a producer, I think I brought more of the 'current feel' stylistically to the recording," recalls Sykes. "Johnny keeps the old school style real, and he's a big part of the DNA of who we are."

Minick agrees, "There is a strong balance here. Michael makes you want to do things. I think I sang things I might not have wanted to sing, and it worked. Michael brings energy to what we do. We have a lot of fun."
The energy and passion the members of Goodman Revival bring to these timeless songs are readily evident on the DVD that was filmed before an enthusiastic audience at Gaither Studios in Alexandria, Indiana. In addition to the LIVE performance, the trio sat down with the video's host and their longtime friend Bill Gaither for a behind-the-scenes look at the new recording and the Goodman Family legacy.
The trio was joined by a few special friends for the video's performances. "The Gaither Vocal Band did a couple songs, and our great friend and super cheerleader Russ Taff joined us on 'The Sweetest Song I Know.' He rocked it down to the ground," says Goodman Sykes. "It was awesome. He is a dynamo. That was a lot of fun."
The new releases are currently airing as part of a tv campaign on DISH TV, DIRECTV, AT&T Uverse, GaitherTV, TBN, FamilyNet, CTN, GMTN, Guardian, Liberty, RFD, TCT and TLN. The campaign is airing in Canada on Vision TV, The Miracle Channel, Grace TV and CTS. The group has received glowing album reviews and has been featured on Sirius-XM Satellite Radio's enLighten Channeland in HOMECOMING Magazine. Goodman Revival will appear on the Gaither Vocal Band's upcoming DVD Sometimes It Takes a Mountain (Gaither Music Group).

The Songs in the Key of Happy CD and DVD are exclusively distributed by Capitol Christian Distribution, and they are available throughout general market stores and the Christian marketplace in addition to online retailers including iTunes, Amazon and www.gaither.com.
To view a preview of the Songs in the Key of Happy DVD, visit:
http://youtu.be/yNnXUAYumyg?list=UUL7aOpP89MGVXrPu7Pzhhpw
For further information, visit the group's newly launched website www.goodmanrevival.com or connect at facebook.com/GoodmanRevival or on Twitter: @GoodmanRevival.
ABOUT GOODMAN REVIVAL:
Accomplishments are nothing new to this team of veteran singers and musicians. After singing with her family, including her father, Rusty Goodman, as a teenager, Tanya performed solo concerts and toured with Michael whom she had met and married while traveling. Amidst becoming a mother to two daughters, she found time to be a member of the trio Heirloom, record a GRAMMY® Award-winning album of lullabies for children, sing on numerous recordings as a Nashville studio singer and become a featured soloist in Nashville's Christ Church Choir.
Before playing piano on the road with The Goodmans, Michael toured with artists including the Hemphills; Ponder, Sykes & Wright; Sammy Hall and Willie Wynn and the Tennesseans. He then began working as a producer where he blossomed, shaping the recordings and careers of artists including the Gaither Vocal Band, The Martins, The Oak Ridge Boys, J.D. Sumner & The Stamps, The Imperials, Dottie Rambo, Russ Taff and Michael English among others.
On the road since the age of 17, Minick performed with The Happy Goodman Family in the mid-'70s as a piano player before starting his own family group. In 1996, he rejoined The Goodmans, forming a trio with Howard and Vestal Goodman. The three of them toured together for five years, recorded several projects and appeared regularly on the Gaither Homecoming events. In addition to his singing career, in 1993, Minick started River of Life Church, in Smyrna, TN, which he still pastors today.