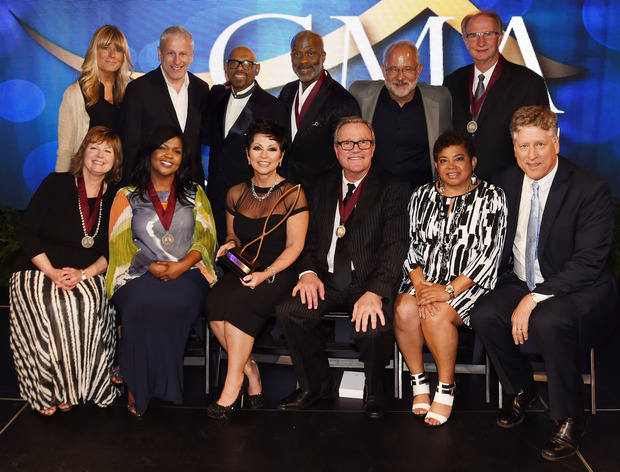 Back row (left to right): Shelley and Louie Giglio, Bishop Paul S. Morton, BeBe Winans, Al Andrews, Roland Lundy,
Front row (left to right): Twila Paris, CeCe Winans, Candy Christmas, Mark Lowry, Jackie Patillo and John Huie
NASHVILLE, Tenn. – (May 6, 2015) – The GMA (Gospel Music Association) held their 2nd Annual GMA Honors celebration at Lipscomb University's Allen Arena on Tuesday evening with special tributes, reunions and praise to the honorees and inductees. The event was in celebration of the individuals and organizations that impact the culture through gospel music both past and present and is set to air on JUCE TV on Friday, June 5th at 7pm PST / 10pm EST and Saturday, June 6th at 12pm PST / 3pm EST. The third-annual GMA Honors ceremony date has also been announced for May 10, 2016.
The 2nd Annual GMA Honors recipients included the inimitable Bishop Paul S. Morton, Founding Bishop of the Full Gospel Baptist Church Fellowship International, The Bridge Ministry founded by Candy Christmas, Passion founded by Louie and Shelley Giglio and Porter's Call founded by Al Andrews. In conjunction with the Honors, the GMA inducted BeBe and CeCe Winans, Mark Lowry, Roland Lundy and Twila Paris into the GMA Gospel Music Hall of Fame. To view biographical information on this year's honorees, please visit the link: HERE.
The evening opened with remarks by Jackie Patillo, president and executive director of the GMA saying, "Tonight is about honoring service. Even though we use the phrase 'Hall of Fame,' what we really mean is notable service to God and to others. Likewise, our GMA Honors provides a platform to acknowledge the many ways that people faithfully serve God and are lights for His Kingdom."
Olympic Gold medalist, Scott Hamilton, hosted the evening as the Master of Ceremonies creating a mood of graciousness and humor.
Last night's performances proved to be exceptionally stellar and featured unique pairings in honor of the recipients. Award-winning artists Point of Grace, Melinda Doolittle and Tauren Wells, Joy and Landy Gardner and the Grace Church Choir featuring The Martins and Chris August made the ceremony truly unforgettable.
Presenters Bill Hearn, Amy Grant, Brandon Heath, Dr. A.R. Bernard, Jeff Stultz, Bill Gaither, Bishop Joseph Walker III and Steve Green
also shared heartfelt testimonies of their personal relationships with the honorees and inductees.
CEO of Capitol Records, Bill Hearn, presented honorees Louie and Shelley Giglio on behalf of their ministry Passion and stated, "Louie and Shelley are a powerful combination…They are nurturing leaders and songwriters under their care; you can count on these two to make the name of Jesus famous throughout the earth." Louie and Shelley accepted this honor saying, "We had a desire to see an awakening spring up from the ground where so many people had drifted from faith and ran away from Jesus and not toward him. All of this is for Jesus and without him there isn't anything in this place tonight."
BeBe and CeCe Winans, gospel music's beloved brother-sister duo, were also inducted into the GMA Gospel Music Hall of Fame at last night's ceremony. CeCe Winans professed her love for God before stating, "The exciting thing about gospel music is it never gets old. God just gets greater and greater over the years. The more things you go though, you get to see Him in a different way." BeBe Winans echoed her response adding, "You do what you do because you love God. You can dream some things but sometimes things happen that you never could dream of."
Accolades from a diverse group including Governor Mike Huckabee, Reba McEntire and Journey's Jonathan Cain honored Candy Christmas' Bridge Ministry. The most poignant acknowledgement, however, came from formally homeless, Jeff Stultz, who said his life was changed when he met Candy under the Jefferson Street Bridge.
Quote pulls from the 2nd Annual GMA Honors:
"Roland, you have loved and loved and loved, and that has changed all of us." – Amy Grant speaking about Roland Lundy being inducted into the GMA Gospel Music Hall of Fame
"I once asked a group of people what is the song that saved your life? Everyone had an answer, the song that was there when they were in a ditch, when they were all alone. When they lost someone they love. I started thinking. Every day I get the privilege of meeting the people who write the songs that save our lives." – Al Andrews, honored for Porters Call
"I would not be standing here today, if it weren't for Bill Gaither." – Mark Lowry, inducted into the GMA Gospel Music Hall of Fame
"If you're God conscious, you won't be self conscious." – Twila Paris, inducted into the GMA Gospel Music Hall of Fame
"My goal in life is to be a Kingdom representative. Thy Kingdom come, Thy will be done, on Earth as it is in Heaven." – Bishop Paul S. Morton, Honored for being the Founding Bishop of the Full Gospel Baptist Church Fellowship Internationa
Please click the following link for high-resolution images from this event.
Photo credit: Rick Diamond/Getty Images
About GMA:
Founded in 1964, the Gospel Music Association serves as the face and voice for the Gospel/Christian music community and is dedicated to exposing, promoting and celebrating the Gospel through music of all styles including Pop, Rock, Praise & Worship, Urban Gospel, R&B, Hip Hop, Southern Gospel, Bluegrass, Country and more. The GMA community consists of members including agents, artists, church leaders, managers, promoters, radio personnel, record company executives, retailers, songwriters and other industry visionaries. The GMA produces the GMA Dove Awards, GMA Honors and IMMERSE. For more on supporting the GMA or becoming a member, please visit www.gospelmusic.org or contact the GMA directly at 615.242.0303.
GMA Social Media Platforms: