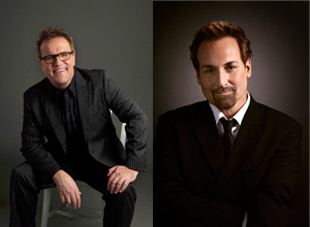 Nearly five years ago, when Bill Gaither created an all-star version of the Gaither Vocal Band, the returning GVB members were managing solo careers and added the Gaither Vocal Band's tour dates, video tapings and recordings to their existing schedules. Now, after trying to manage both solo careers and Gaither Vocal Band responsibilities, Mark Lowry and Michael English are ready for a new season of life that is not so demanding.
"When I rejoined the Gaither Vocal Band in 2009, I figured it wouldn't be a long-term commitment since Bill was over 70 years old," Mark says, adding, "That was nearly five years ago and Bill's bucket list is wearing me out! But the Vocal Band is a family. We come and we go, but we never REALLY leave. I could pop up anywhere at any time!"
Mark Lowry will fulfill his Gaither Vocal Band concert commitments through the end of 2013. Michael English has already concluded his last regular Gaither Vocal Band concert as the lead singer, but we look forward to having him join us for Gaither Fest in Myrtle Beach and other future events. We have confirmed Mark Lowry for the 2014 Caribbean Cruise and Family Fest 2014. Besides those two events, if you want to hear the Gaither Vocal Band with Mark Lowry singing baritone, the concerts remaining in 2013 will be your last opportunity! Check www.gaither.com for upcoming tour dates and ticket information. Check Michael's website, www.michaelenglishmusic.com, for solo concerts in a city near you. And check for Mark Lowry's solo dates at www.marklowry.com.
Bill Gaither states, "I am grateful that we have had five bonus years with these incredibly talented artists. Thank you, thank you to Michael and Mark. For those of you who have followed the Vocal Band for the past 25 years, you know that I have worked with some of the most talented male vocalists in our field, and I promise you we are not going to let that standard down in this transition. I am sad to see Michael and Mark leaving, yet I am so excited about the new possibilities we are considering. So stay tuned for an exciting voyage in 2014! We will update you when we have made final decisions."
Please note: The remaining 2013 Gaither Vocal Band concerts are going to be incredible, as they will include Bill Gaither, David Phelps, Wes Hampton, Mark Lowry, and gifted guest artists singing lead throughout November and December. You will not be disappointed.