This week, the Oak Ridge Boys have been in the studio, hard at work on another future Gaither Music release, and this time it's a Christmas CD! They were working away when suddenly, guess who surprised them with a visit?!
(OH, in case you missed it earlier…)
We are already pre-selling a FABULOUS new Oak Ridge Boys recording called Back Home Again! There are songs samples and details on this May 22 release here.
(But back to the Christmas CD…)
We LOVE the combination of Oak Ridge Boys harmonies with Christmas favorites both festive and sacred… classic and new songs. And if you've ever seen an Oaks Christmas concert, you know these guys are serious about celebrating the birth of their Savior! They LOVE Christmas, and that really comes through when they start singing about it!

While they were working , we had a secret inside source giving us the scoop on what they're doing! (Thanks, Joe!) We learned that the tracking is almost finished and the guys will be working on vocals in May. We also are excited to report that William Lee Golden is working on a beautiful version of "Mary, Did You Know?" What other songs can you expect? Well we happened to have a photo of the song list they are working from in the studio!
Here is a photo of the producer for this recording, Ben Isaacs. See how seriously he is working on making this project outstanding?!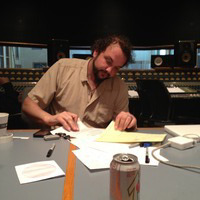 And you can really never have a studio tracking session without Gordon Mote. There is some sort of rule about this in Nashville we're pretty sure .
(Indulge us in just one more sidestory? Thanks.)
Bill loves these boys! In fact, the Oaks' recently came to Indianapolis and attended an Indiana Pacers basketball game with Bill. (Bill is a diehard Indiana basketball fan.) They went to dinner, then the Oaks opened up the game with the National Anthem… then they enjoyed some basketball together. Here is a photo Joe Bonsall took with his phone of him and Bill during the game: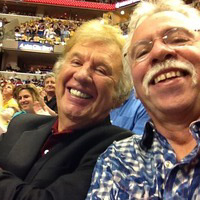 They were even stalked by our other dear friend, Woody Wright! Here's a shot Woody put on his Facebook page. (This, of course, means we are sort of stalking Woody, too. But that's what friends are for, right?)
And… the boys got to meet Larry Bird! They were a little giddy about that. Here is a photo they sent out via Twitter…

Here is the latest project by the Oaks…click here to preorder you copy today!!