For weeks we have been talking about the new Homecoming Bible, in stores now. We have offered video interviews of the artists talking about it, a promo video describing it, as well as opportunities to download the book of Psalms free!
But with all this talk, we have not yet given you a peek at the resources and devotionals available inside! So, without further delay, we are pleased to provide you with your first-ever excerpt from Bible. Below you will find one of the devotionals from Bill. It is located on page 1,156 of the Gaither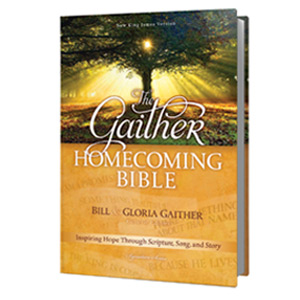 Homecoming Bible, and it's just one of the many ways in which Bill and Gloria and the Homecoming family have taken everyday stories from their lives where scripture became personal and applicable.
"Blessed are the meek, for they shall inherit the earth." Matthew 5:5
I recently went to the funeral home with a friend of mine for the visitation of our schoolmate, Lloyd Frix, who had passed away. Lloyd came from a hardworking family in our little town of Alexandria, Indiana. HE was one of the strongest young men I had ever known, I suppose because he had helped his father with the family's moving business all his life, which involved a lot of heavy lifting.
Lloyd also played high school football and he was amazing. If the team was a third down and short, everyone knew to get the ball to Lloyd. He could get the first down every time.
In talking to my friend after the visitation, we reflected on Lloyd's strength, but soon found ourselves discussing his gentleness. He was one of the kindest, gentlest people either one of us had ever met. I asked my friend, "Did you ever know Lloyd to use his physical strength other than on the football field?"
My friend, who had attended Ball State University with Lloyd, at first said, "Never." Then, upon further reflection added, "Well, once."
He went on to recall one night at Ball State when three thugs were making fun of a girl for her size. They were all friends with Lloyd, but after they started insulting this young lady, Lloyd stood up to face each one of those young men and warned them, "I could either do this in here, or outside . . . and I can take all of you at once or each of you individually, but you are not going to treat her like that." Apparently those young men knew he meant business. And they all walked away.
After hearing that story about this gentle giant of a friend, I understood Matthew 5:5 for the first time in my life. Meekness isn't weakness. It is strength under control—and not only physical strength. Any advantage—whether a mental advantage, the ability to articulate, or even our own station in life—that is used to intimidate or dominate another human being for our own gain is a misuse of power. God is not honored by a lack of meekness.
Meekness means using our strengths humbly and responsibly, as Jesus would. He promises that the meek, in the end, will inherit the earth.
– Bill Gaither