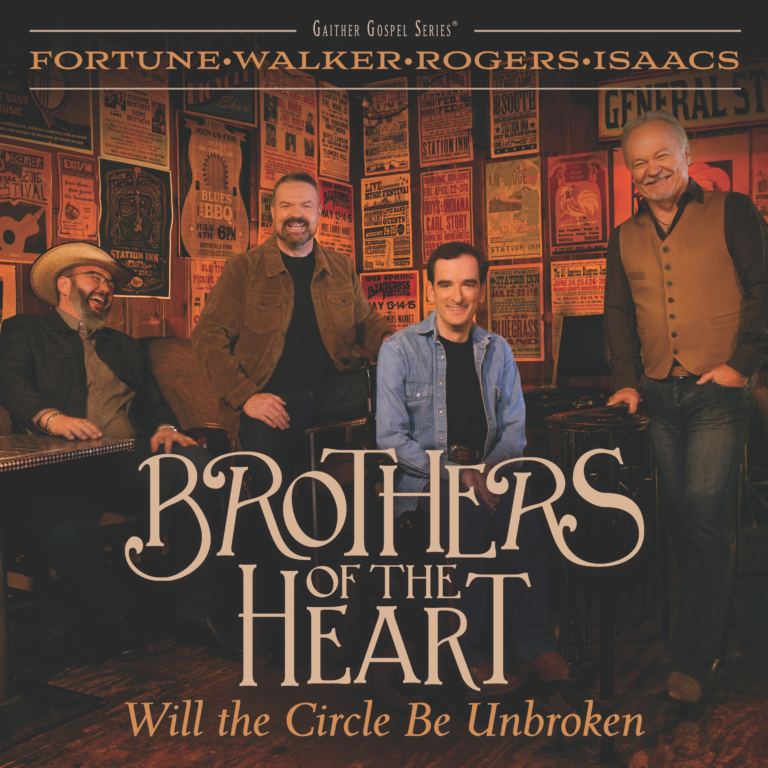 October 30, 2023
Brothers Of The Heart Deliver Third Album, Will The Circle Be Unbroken, On Nov. 3, 2023
Back to News
"Country, bluegrass, gospel dream team" (Cowboys & Indians) Brothers of the Heart — featuring award-winning artists Jimmy Fortune, Bradley Walker, Mike Rogers and Ben Isaacs — will deliver its third album, Will the Circle Be Unbroken, on Nov. 3, 2023, via Gaither Music Group.
On the 12-track record, produced by group member and Grand Ole Opry member Ben Isaacs, the Brothers reimagine country, gospel and pop classics, including "Seven Bridges Road," "I Can See Clearly Now," "How Great Thou Art," the album's title track and more. The supergroup, composed of world-class vocalists/instrumentalists, once again showcases its signature seamless harmonies and impeccable arrangements on the anticipated new record.
"Will the Circle Be Unbroken is a continuation of the great music that I get to be a part of with these talented guys who are family to me," says Isaacs. "I love taking the songs that we grew up on and have loved for so long and re-introducing them in our style. Jimmy, Mike and Bradley are singing better than ever, and we are excited to share this project with you."
Will the Circle Be Unbroken's first digital single, the Brothers' soaring arrangement of The Temptations' timeless favorite "My Girl," is out now — stream it HERE.
Filmed at the iconic Studio A at The Grand Ole Opry and hosted by The Statler Brothers' Don Reid, the Will the Circle Be Unbroken TV special (also available as a full-length DVD for purchase) is set to air on RFD-TV, PBS, TBN, TCT, Heartland and CTN; it will air in Canada on Vision TV, CTS, The Miracle Channel and Hope TV.
The recording will be featured on Gaither Radio on Pandora, Gaither Radio on Amazon, the Gaither Amazon storefront, the Front Porch Country Gospel Collection on Apple Music, the Gaither Music Facebook page (over 2M followers) and the Gaither Music TV YouTube page (over 3M followers).
Following the Brothers' acclaimed debut album Brotherly Love (more than 31 million streams worldwide), the quartet released its sophomore project, Listen to the Music, and its accompanying DVD/TV special, earlier this year (Jan. 20). The group appears regularly on The Opry, in addition to full touring schedules individually and a select number of dates as Brothers of the Heart.
The Will the Circle Be Unbroken CD and DVD are distributed by Capitol Christian Music Group and Universal Music. For more information, visit Gaither.com.

Pre-save/pre-order Will the Circle Be Unbroken CD HERE.
Pre-order the Will the Circle Be Unbroken DVD HERE.
Will The Circle Be Unbroken Album Track Listing: 
1. There Goes My Everything
2. Church In The Wildwood
3. My Girl
4. Waitin' For The Sun To Shine
5. Seven Bridges Road
6. It Is No Secret
7. I Can See Clearly Now
8. Blue Eyes Crying In The Rain
9. Amie
10. More Than A Name On A Wall
11. Will The Circle Be Unbroken?
12. How Great Thou Art
Will The Circle Be Unbroken DVD Track Listing:
1. Amie
2. There Goes My Everything
3. Church In The Wildwood
4. My Girl
5. Waitin' For The Sun To Shine
6. Seven Bridges Road
7. It Is No Secret
8. Blue Eyes Crying In The Rain
9. I Can See Clearly Now
10. More Than A Name On A Wall
11. How Great Thou Art
12. Will The Circle Be Unbroken
13. Victory In Jesus