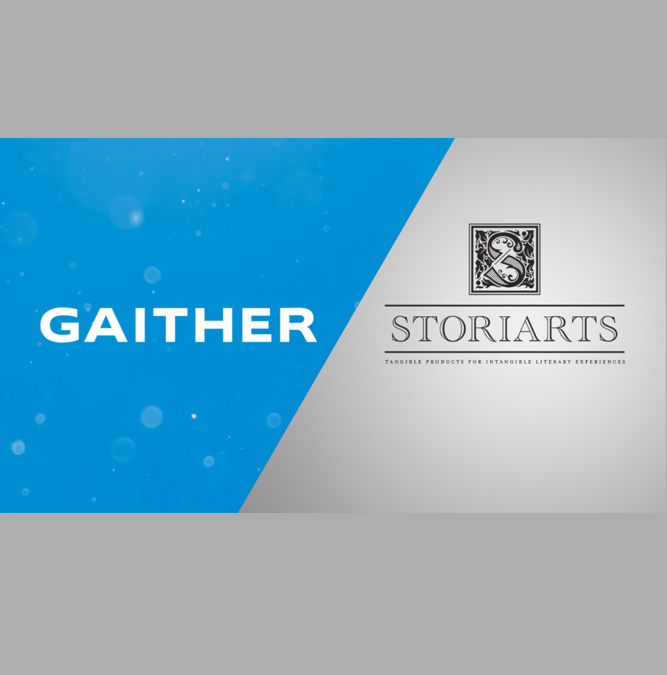 November 19, 2020
Gaither Music Group and Primary Wave Music Launch New Inspirational Product Line with Storiarts
Back to News
Gaither Music Group and Primary Wave Music have teamed with Portland, Oregon-based Storiarts, a high-quality, soft goods company with products that are "inspired by classics," to co-create a new music-inspired product line. GRAMMY Award-winning Gospel Music Hall of Fame members Bill and Gloria Gaither have been selected as the featured artist for the national launch of this new line. The initial collection of gift items pays tribute to Gospel music classics "Because He Lives" and "He Touched Me," award-winning songs from the pens of Bill and Gloria that have impacted Gospel music listeners for generations. The new products, which are now available, include comfortable scarves and gloves, warm blankets, and beautiful totes featuring these inspirational song lyrics and artistic renderings of sheet music.

"Gaither Music Group has experienced the power of songs for decades," stated Paul Sizelove, president of Gaither Music. "We are excited about this partnership with Storiarts that allows us to offer the gift of music in new ways, and we look forward to working alongside them to create lifestyle products that reflect the hope and encouragement of our messages."

"Storiarts exists to spread the love of great literature and now through this partnership with Primary Wave and Gaither Music, we are excited to spread the love of great music. Teaming up with some of the greatest singers and songwriters in the world is a dream and we have big plans for launching more music-inspired products together," stated Tori Tissell, Founder and CEO of Storiarts.

The new Storiarts line of products marks the latest in a long line of successful recordings and ventures by Gaither Music Group. Earlier this year the label released the new podcast, Bill Gaither's More than the Music, sponsored by Game Show Network, and announced a long-term partnership with GRAMMY Award-winning singer, songwriter, and producer Rudy Pérez. In recent weeks, Gaither joined hands with Circle TV followed by a new relationship with the Country's Family Reunion brand.

To view the collection visit: https://store.gaither.com/Gift-and-Apparel.dept

Since its inception, Gaither Music Group has grown into one of the largest independent Christian music companies in the world. The brand has become a household name, with millions of fans worldwide being uplifted by its award-winning recordings. These include the top-selling Gaither Gospel Series, which showcases rising stars as well as gospel music pioneers and country acts including The Oak Ridge Boys, Randy Travis, Jimmy Fortune, Joey+Rory, Alabama, Alan Jackson, The Statler Brothers, George Jones, Vince Gill, and others.

Gaither Music Group has partnered with a number of acclaimed artists across the music industry, including Sandi Patty, Steven Curtis Chapman, and Gloria Gaynor, who won the 2020 Best Roots Gospel Album GRAMMY® Award for her album Testimony. In 2008, the company developed a partnership with Cracker Barrel Old Country Store®. Gaither Music Group also enjoys a successful alliance with Capitol Christian Music Group, Universal Music Group, and Time Life Music.

The label is home to some of gospel music's top-selling artists across a variety of music genres, with a roster that includes the Gaither Vocal Band, Bill Gaither, David Phelps, The Isaacs, Lynda Randle, and more. Gaither Music Group has produced projects for the Johnny Cash estate and Elvis Presley Enterprises, the Billy Graham Evangelistic Association, and the Tennessee Ernie Ford estate. It has also delighted and inspired audiences with performances in world-renowned venues such as Carnegie Hall, The Kennedy Center, The Sydney Opera House, and the Red Rocks Amphitheatre.

Gaither Music Group has developed an audience across the globe, selling over 40 million DVD and CD units worldwide, with 133 of the Gaither Homecoming videos and CDs reaching RIAA precious metal status. In addition to this, over 1.7 million people have subscribed to the Gaither TV YouTube channel; and its products topped the Billboard Year-end Chart of Music Video Sales Labels for 2000, 2011, 2014, 2015, 2017, and 2018.

After being blessed with years of growth – including a 2019 partnership with Primary Wave Music that allowed Gaither Music Group to expand its vision to new artists and a broader audience – the label is pleased to launch this line of merchandise to reach fans both old and new.
For media inquiries please contact:
Donny Evans
The Press House
About Storiarts
Storiarts is a family-owned business making accessories, home goods, and unique gifts inspired by your favorite books and music. Our collection of inspired scarves, gloves, blankets and more is sure to be a hit with the book and music-lovers in your life.
About Gaither Music Group
One of the largest independent Christian music companies in the world and a household name for millions of fans, Gaither Music Group, in partnership with Primary Wave Music Publishing, is known worldwide for its award-winning and top-selling recordings, including the Gaither Gospel Series, of which 133 products have been certified gold, platinum or multi-platinum. These recordings, which encompass more than 177 video copyrights, showcase gospel music pioneers; many of the finest performers in the gospel and country genres; up-and-coming acts; and country artists including The Oak Ridge Boys, Jimmy Fortune, Joey+Rory, Alabama, Alan Jackson, The Statler Brothers, George Jones, Vince Gill, Josh Turner, Tennessee Ernie Ford, The Isaacs, and others. The brand has partnered with Sandi Patty, Gloria Gaynor, Steven Curtis Chapman and a host of acclaimed talents from various fields of music. Gaither Music Group has garnered sales of more than 40 million DVDs and CDs, including such PBS stalwarts as Billy Graham: God's Ambassador, the only authorized video autobiography of Reverend Billy Graham; The Gospel Music of Johnny Cash; and three Elvis Presley projects, including He Touched Me and The Gospel Music of Elvis Presley, in conjunction with the Elvis Presley Estate. The company developed a partnership with Cracker Barrel Old Country Store® in 2008; and its alliances with Capitol Christian Music Group, Universal Music Group and Time Life Music remain bedrocks for the company.
••• Follow Gaither Music Group •••
About Primary Wave
The Home of Legends.
One of the most dynamic independent publishing and talent management companies in the world, Primary Wave Music is home to some of the most iconic songwriters and artists across the history of recorded music including Bob Marley, Four Seasons, Smokey Robinson, Whitney Houston, Burt Bacharach, Olivia Newton-John, Prince, Ray Charles, Aerosmith, Def Leppard, War, Robbie Robertson, Count Basie, Sly & The Family Stone, Boston, Alice Cooper, Paul Anka, Boy George and Culture Club, Allee Willis, Leon Russell, Free, Toots & The Maytals, Steve Cropper, Glenn Gould, Air Supply, Godsmack, Devo, Donny Hathaway, Nicky Chinn, Noel Hogan (Cranberries) and many more. Throughout the company's 14-year existence, Primary Wave Music has embraced an entrepreneurial spirit, offering and executing proactive one-of-a-kind ideas, unique services and marketing campaigns for our artists. Primary Wave has earned a stellar reputation for being forward thinking and re-introducing classic artists and their music into the modern marketplace as well as nurturing young talent to become legends themselves. This success is based upon our team of seasoned and creative executives collaboratively working together closely with our artists as partners. As a company, we strive for excellence in the pursuit of iconic artists and catalogs that not only reflect great artistry, but moments of culture.
••• Follow Primary Wave •••
The Press House – New York | Los Angeles | Nashville