"…My sweet sister and only sibling slipped into the arms of Jesus…Dec.18 at 6:00 a.m. She was the most loving person and a gift to my life all my life. She was a graduate of AU (Anderson College then), and a girls' varsity basketball player all her college (and high school) career. She loved nature and digging in the dirt. She taught science and loved tromping kids through the woods to learn the names of trees and plants, and to identify animals by their tracks. She was a stable force in the lives of so may kids over the years, including ours. I will miss her, but am so glad her suffering is over. Her husband of 59 years took such good care of her, it was a new definition of the marriage vows. What does Hollywood know about love? She was my support and greatest encourager. All of us are so blessed. Her kids are both in ministry (Clint and Lisa in music at Church at the Crossing in Indy, and Greg and Melody pastor in Millington, Michigan.) What a gift to have such a strong and faithful family!"
Gloria Gaither
– – – – – – – – – –
Sept. 10, 1932 – Dec. 18, 2015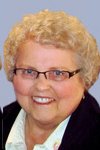 Anderson, IN – Evelyn J. (Sickal) Baylor, 83, entered into eternal rest on Friday, December 18, 2015, from Community Hospital in Anderson following an extended illness.
She was born in Leonard, Missouri, on September 10, 1932, to W. Lee and Dorothy (Boster) Sickal. Evelyn graduated high school in 1951 in Union City, Michigan, and completed undergraduate studies (B.A.) at Anderson College, Anderson, Indiana. She played basketball at both levels. Her life career was dedicated to education of young people, teaching students in communities in Michigan (Homer, Coleman, Hickory Corners, Richland) and Indiana (Orestes). She was also employed by the Belding Public Schools in Michigan. Her career spanned 25 years and focused on Physical Education and Science.
Evelyn married David R. Baylor on July 7, 1956, in Burlington, Michigan. They raised two daughters, Melody and Lisa. Both daughters are married to pastors in the Church of God (Anderson). The Baylors have lived in Michigan, Indiana, and Kansas during their more than 59 years of marriage.
In her early years, Evelyn learned an appreciation for nature. She was an avid gardener with a skilled and prolific "green thumb." She was a lover and protector of plants, trees, and wildlife. She enjoyed feeding and watching the birds, and was quick to teach her five grandchildren to love and protect animals and plants, as well.
Evelyn loved the Lord, and served Him in many leadership roles in Church of God congregations she attended. Roles in which she served included music leadership, board member, Sunday School teacher, and choir member. She and her husband have been active members of the East Side Church of God since 1983, with a brief residence in Kansas where they attended Central Community Church. She was also a long-time member and leader of a Monday Evening Ladies' Bible Study in her Alexandria home. Evelyn enjoyed crossword puzzles and spending time with family and friends.
She is survived by husband David R. Baylor, daughters Melody (Rev. Greg) Capsel (Millington, MI), and Lisa (Rev. Clint) Dunn (Fishers, IN), grandchildren Anderson (Andrea) Capsel (Fishers, IN), Victoria Capsel (Millington, MI), Lauren Dunn, Olivia Dunn, and Lane Dunn (Fishers, IN). Also surviving is her sister, Gloria (Bill) Gaither of Alexandria, IN, and several nieces and nephews.
Services were held at East Side Church of God in Anderson, IN, on Monday, December 21 at 11:00 a.m. and a viewing was held on Sunday, December 20, from 4:00 to 8:00 p.m. at Owens Funeral Home in Alexandria, IN.