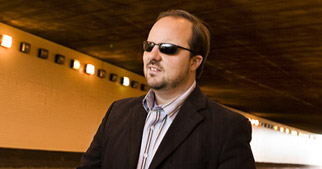 PRESS RELEASE:
GORDON MOTE CONTINUES HIS JOURNEY AS A SOLO ARTIST
(May 29, 2012 – Alexandria, IN) Gordon Mote has served as the keyboard player and featured performer on the Gaither Homecoming stage since 2006, and he has now decided concentrate full-time on his solo career. He came to the Gaither Homecoming Tour in the midst of a successful career as one of Nashville's most sought-after studio session players. During the past six years, Gordon has become a dearly loved and highly respected member of the Homecoming family, delighting audiences all over the world, while continuing to play for studio sessions. In addition, he has found himself in growing demand as a solo artist.
After wrestling with the decision to adjust his focus and his schedule more intentionally, Gordon states: "I am eternally grateful to Bill and Gloria for introducing me to people all over the world and allowing me to work with this incredible family of artists. I truly love every one of them. I will still be traveling a great deal as a solo artist, but this decision allows me greater flexibility to be a husband and a dad while also living out my calling as an artist. I will look so forward to being part of whatever Homecoming events my schedule allows."
Bill Gaither reflects on their years working together, stating: "Gloria and I have loved Gordon ever since he began playing on our sessions in the studio, and the more we got to know him the more we wanted the world to meet him! We were thrilled when he agreed to join us on the road for our live concert events. During the past six years of having him on the road full-time, he has been a joy. I can honestly say I have never worked with an artist with more integrity and more outstanding genius than Gordon Mote. While he will always be part of our family of artists, we will sure miss working with him on the road week-to-week."
To stay in touch with Gordon Mote and to stay apprised of future developments in his journey, be sure to follow @GordonMote on Twitter and visit his website.
Learn more about Gordon's musical journey, as well as his life, faith and family, in the Gaither Gospel Series DVD entitled, The Best of Gordon Mote, which features his most-loved Homecoming performances and personal interviews with Gordon and his family.
Click here to watch Bill as he thanks Gordon for his time with the Gaither Homecoming Tour.