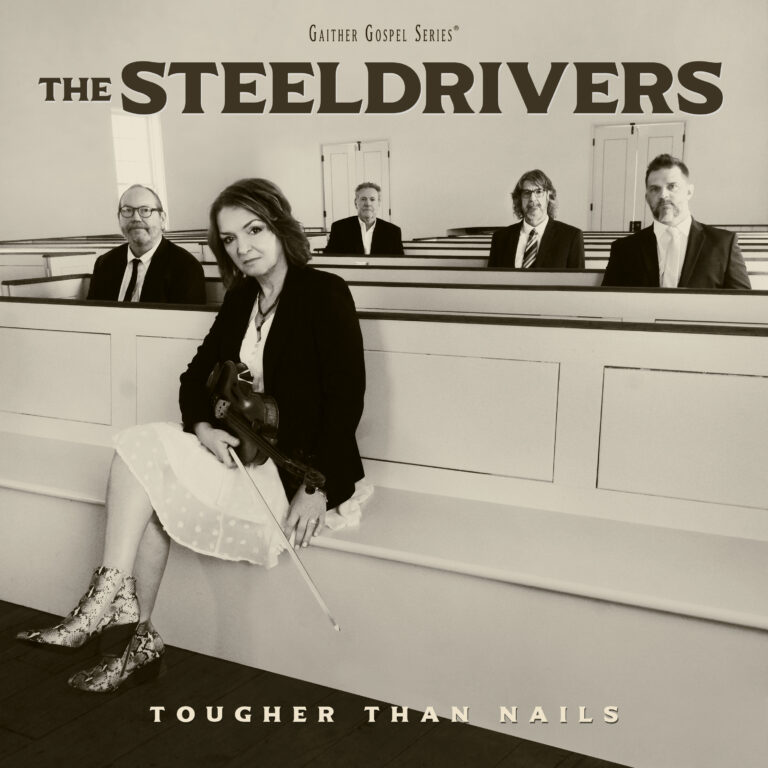 July 19, 2023
GRAMMY Award-Winning Band The SteelDrivers Announce 'Tougher Than Nails' Gospel Album, Out Sept. 8
Back to News
GRAMMY and IBMA Award winners The SteelDrivers announce a new Gospel album, Tougher Than Nails, due out September 8 via Gaither Music Group, available for pre-order now. 
"Just a Little Talk with Jesus," the 11-song record's debut track, is out now. Download/stream it HERE.
"The sacred and the secular have always gone hand in hand in Bluegrass music… just like Saturday nights and Sunday mornings," stated group member Tammy Rogers. "The SteelDrivers have waited a long time to do a full Gospel album, but I believe the time is just perfect for our new release, Tougher Than Nails, on Gaither Music. We couldn't be more excited to share our version of some classics along with six brand new songs written by members of the band, past and present."
The group — Richard Bailey on banjo, Tammy Rogers on fiddle, Mike Fleming on bass, Brent Truitt on mandolin, and Matt Dame on guitar — continues to redefine Bluegrass music, showcasing seasoned musicianship and seamless, vocal harmonies that are familiar yet fresh. 
Accomplished veterans individually, the quintet combines country, soul, and blues stylings for Tougher Than Nails. Featuring original songs "Magdalene," "At the River," and more, along with classics like "Amazing Grace" and "Farther Along," The SteelDrivers deliver messages of hope and redemption through stellar performances.
Tougher Than Nails Track Listing:
1. Somewhere Down the Road
2. Tougher Than Nails
3. Just a Little Talk with Jesus
4. Farther Along
5. Magdalene
6. 30 Silver Pieces
7. I Will Someday
8. His Eye Is on the Sparrow
9. At the River
10. Going Home
11. Amazing Grace
Pre-save/add/order Tougher Than Nails HERE.
About The SteelDrivers:
The SteelDrivers (Richard Bailey on banjo, Tammy Rogers on fiddle, Mike Fleming on bass, Brent Truitt on mandolin, and Matt Dame on guitar) is a group of seasoned veterans – each distinguished in his or her own right, each valued in the town's commercial community – who are seizing an opportunity to follow their hearts to their souls' reward. In doing so, they are braiding their bluegrass roots with new threads of their own design, bringing together country, soul, blues, and other contemporary influences to create an unapologetic hybrid that is old as the hills but fresh as the morning dew. This is new music with the old feeling. SteelDrivers fan Vince Gill describes the band's fusion as simply "an incredible combination."
Specializing in a unique mix of what might be called bluegrass soul, The SteelDrivers have become one of the biggest names in progressive bluegrass after making their debut in 2005. While there's a strong traditional streak in The SteelDrivers' sound, they bring a passion to their delivery that adds a distinctive flavor, and they're not afraid of adding a forceful grit to the music.
The SteelDrivers have been nominated for four GRAMMYs, the Americana Music Association's New Artist of the Year and were IBMA's 2009 Emerging Artist of The Year. In 2015, "The Muscle Shoals Recordings" won the GRAMMY award for Best Bluegrass Recording.