Memorial video and celebration service information has now been added to this on-going story about the loss of our friend, Stephen Hill. Newly added information is marked by asterisks (*). Thanks to all of you for your prayers and for the hundreds of kind comments we have received honoring Stephen's life and music.
*In Memory of Stephen Hill*
1956 – 2012
*Announcement Posted Monday Morning, August 7*
Stephen Hill Remembered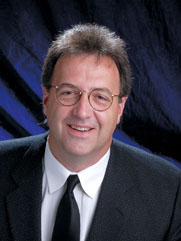 The Homecoming family is extremely sad to announce that our dear friend, Stephen Hill, passed away suddenly on Sunday evening, August 5. Stephen was in the middle of a sound check before a solo concert in Lumberton, North Carolina, when he suffered a massive heart attack that took his life. He was 55 years old.
Stephen has appeared on dozens of Homecoming DVDs and television specials both as a soloist and a group singer. In addition to his participation in Homecoming recordings and a full schedule of solo concerts, Stephen has lent his talent as a session singer to a wide range of recordings by country and gospel greats including Marie Osmond, George Younce, Jake Hess, Jessy Dixon, Dolly Parton, Mark Lowry, and many others.
Stephen was a "gentle giant" with a kind, soft-spoken nature and a tenor voice as versatile as it was beautiful. He had a sincere heart for people and for sharing the hope of Christ with audiences throughout his career. He was dearly loved by his friends, family and the music community.
Stephen is survived by his wife, Kathy, and their children Melody, Miriam and Caleb. Please keep the family in prayer as they cope with this sudden, tragic loss.
*NEW* A Celebration Service honoring the life of Stephen Hill will be held at Grace Church of the Nazarene in Nashville on Monday, August 13 at 3:00 PM. (Grace Church of the Nazarene is located across from The Opry /Opryland Hotel.
Below is one of the last things Stephen posted on his Facebook page. This tenderhearted gentleman will be sorely missed.