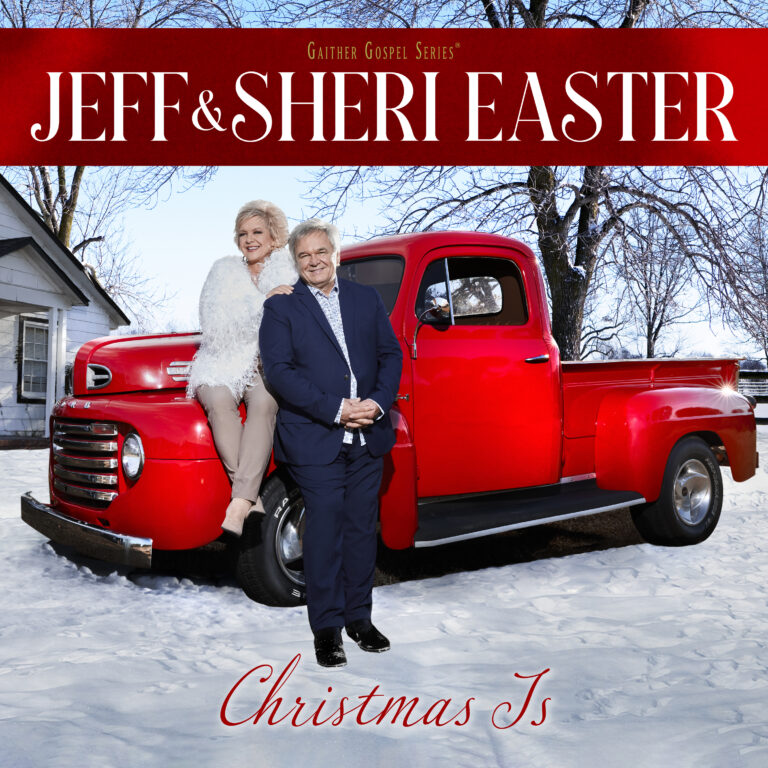 October 12, 2023
Jeff & Sheri Easter Welcome The Holidays With New Christmas Album, Christmas Is
Back to News
Beloved gospel music duo Jeff & Sheri Easter bring their signature touch to the sounds of the season with Christmas Is, a new holiday album available on Oct. 20 via Gaither Music Group.
Produced by Jeff & Sheri Easter and Greg Cole, the GRAMMY-nominated pair deliver yuletide joy with their renditions of nostalgic holiday classics — including "A Holly Jolly Christmas" with a Western swing and a country harmony-filled "Winter Wonderland"— along with newly-penned songs, celebrating the joys of Christmas.
With "Winter Wonderland" Jeff & Sheri continue their musical families' legacies (Jeff's father is one of the Easter Brothers and Sheri's mother is a member of The Lewis Family), as they are joined by daughter Morgan Easter Smith on the Christmas classic. The family fun continues on "Have Yourself a Merry Little Christmas," as their son and daughter-in-law, Madison and Shannon Easter, join in on the jazzy track. The group shares what Christmas Is to them — family, joy and faith delivered through a humble birth of a child divine.
"Christmas is many things to many people," says Sheri. "For some, it's a big family gathering with gift-swapping and lots of laughter; for others, maybe a quiet evening with a few of the ones you love, being reflective or maybe even a candlelight service or caroling. Whatever your idea of Christmas, I hope it starts with a tiny baby in a manger — the tangible love of God sent down to man for the remission of sins in a sinful world — the story of Jesus, Emmanuel, God with us. This collection of songs is our gift to you, sharing the beauty of Christmas through what we consider to be the important stuff, the fun stuff and the stuff that good memories are made of! For our family, this is what Christmas is!"

Christmas Is track listing
Winter Wonderland feat. Morgan Easter Smith
A Holly Jolly Christmas
If You Listen
'Tis The Season
Have Yourself A Merry Little Christmas feat. Madison & Shannon Easter
Christmas Every Day
It Won't Be The Same This Year
Miles Into Smiles
Christmas Is
Here Comes Santa Claus feat. Ryman Pauline Smith
Christmas Is is distributed by Capitol Christian Music Group and Universal Music. For more information, visit Gaither.com. The recording will be featured on the Christmas Spirit programming on Gaither Radio on Pandora, Gaither Radio on Amazon, the Gaither Amazon storefront, the Front Porch Country Gospel Christmas Collection on Apple Music, the Gaither Music Facebook page (over 2M followers) and the Gaither Music TV YouTube page (over 3M followers).