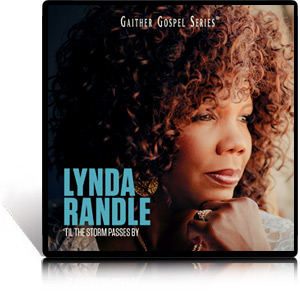 Lynda Randle: 'Til The Storm Passes By releases Tuesday, July 31! Click here to order your copy.

Lynda took her time meticulously putting together this collection of songs that authentically expresses what life has taught her during the past few years. And we could think of no one better to share the heart of this project than Lynda herself! So keep reading and learn why Lynda waited until the perfect time to release this incredible new recording, why she chose the songs she chose and what it was like to work with Ben Isaacs on producing this CD.
We thought you might also enjoy hearing a few snippets of Lynda's CD by clicking this song sampler player below. Enjoy!

Click here to listen.

Here is a song listing from the CD
1. Just A Closer Walk With Thee
2. Nothing But The Blood
3. I've Got Jesus On My Mind (I've Got Him On My Mind)
4. Somebody Bigger Than You And I
5. He Lifts Me
6. Strength
7. He Is There
8. 'Til The Storm Passes By
9. What A Difference You've Made In My Life
10. People Need The Lord
11. I Have Decided To Follow Jesus
12. Wayfaring Stranger
From the Heart of Lynda Randle:
People have been asking me, "When are you going to release your next album?" Well, it's been four years since my last project and I have not felt prompted or released by the Holy Spirit to do another album until now. The other CDs have been doing great and I did not want to release a new project just because another year had passed. It just wasn't God's timing.
Anyone who has ever heard my testimony knows I share how my dad would always say to me, "Chub, baby, if you don't mean it, don't sing it." That still stands true for me today. There are a lot of great songs and I hear a lot of wonderful people singing them. But, if they don't hit me first, I can't really communicate that truth to anyone else. And so, it's been four years of silence and waiting.
I've been standing side-stage for thirteen years with other Homecoming Artists singing backup for Ben Speer as he sang, "'Til The Storm Passes By". I certainly did not know then that this song would become as much a part of my personal testimony as it has, but God knew! In the past couple of years, there have been a lot of trials in my daily life, ministry, family, and in care-giving for my sweet mom. This new album is more powerful and effective because of what I've been through and learned through these storms. Most importantly, I've come to know deeply that Jesus would be there — every step of the way during these trials. He is truly the greatest storm chaser of all times!
This is one of the most powerful albums I have done in 30 years of ministry! Everyone knows God is God on the mountain. Through the message of this album, they will also know that He's the God of the storm. These songs will connect in a real and deep way with the heart of the listener for whatever storm they are experiencing.
Excitement is building as I have been singing some of these new songs across the country and the response has been overwhelming. Most of us know "I Have Decided to Follow Jesus" from Vacation Bible School, church camp, and tent meetings as a casual and bouncy song that can almost be sung without reservation. My version is very different as it makes you want to bow and worship. It communicates the Cross and the sacrifice in following Jesus. It's somber and haunting as the words paint a picture of how much sacrifice is required to carry the Cross. Once you start, there is no turning back. It brings the listener to a place of reverence, contemplation, and maybe even repentance. After singing this song in a recent concert, one lady came up to me with tears in her eyes and shared that she had committed her life to Jesus Christ. What a powerful response!
This has also been my most creative album. Working with Ben Isaacs on this project has been a dream come true! What each of us brought coming into this has resulted in a delightfully creative match. His bluegrass and other acoustic elements paired with songs from heart and soul bring forth an uncompromising honesty of the music and message. I also enjoyed working again with my brother, Michael Tait of the Newsboys on two songs that I wrote, "Strength of the Lord" and "He is There." His background vocals are matchless! I call him the "king" of BGV'S!!! Amazing!!!
Four years of not releasing a new studio album may seem like a long time, especially to record executives. That's why I would like to thank Barry Jennings and Paul Sizelove of Gaither Music Group for allowing me to take this 4-year sabbatical and have the freedom to record in God's perfect time! I believe many lives will be touched and changed as so many people are in the middle of their own personal storms due to our [nation's] economic situation, health, unemployment and family issues. So while the timing of this album may have seemed to be a delay to some, I believe the timing is just perfect. So many people need to hear the message that Jesus will be right there with them through every trial, through every day, 'til their storm passes by.
– Lynda
Watch Gaither.com's exclusive video interview with Lynda Randle here.!