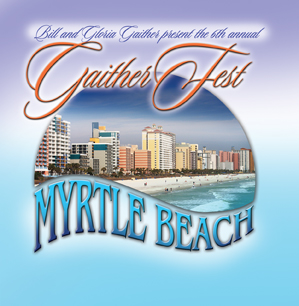 The date has been set for Myrtle Beach Gaither Fest 2012, and tickets are on sale NOW! See details below.
2012 GAITHER FEST at MYRTLE BEACH
October 19 & 20, 2012
at the Myrtle Beach Convention Center
Weekend Concert Schedule:
Friday, October 19, 2012
7:00 p.m. – Opening Concert
Saturday, October 20, 2012
10:00 a.m. Concert & Guest Speaker
6:00 p.m. Final Concert
TICKET INFO:
Ticket costs remain the same as this year's Myrtle Beach Gaither Fest weekend:
$100 for adults and $35 for children (w/ a handling fee of $5.50 per ticket).
Order tickets by phone at 1-800-713-3773 starting Friday, October 21, at 10:00 a.m. Eastern
OR