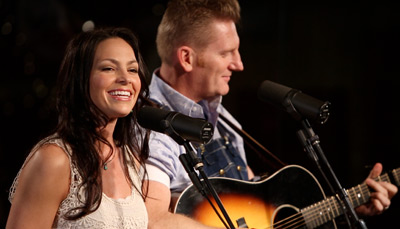 This July, Gaither Music Group will release our first DVD and CD featuring country singer-songwriter duo Joey+Rory, who appeared in the Gaither Vocal Band: Pure And Simple, Volume 1. Their new CD and live DVD, entitled Inspired, will feature songs that have become part of the couple's spiritual fiber over the years, including a combination of tried and true gospel favorites and newer songs fresh from their own experiences. Inspired is set to release on July 16, 2013.

To give you a little history about Joey+Rory, the duo is comprised of married couple Rory Feek and Joey Martin Feek, who competed in CMT's Can You Duet and became the show's third-place finalists in 2008. After a number of award nominations, the couple received the 2010 Academy of Country Music Award for Top New Vocal Duo and the 2011 Inspirational Country Music Award for Vocal Duo. Joey+Rory have released four recordings since 2008 and host their own television program "The Joey+Rory Show" on the RFD network.
Billboard Magazine caught up with the couple this past weekend on the red carpet at the Academy of Country Music Awards in an interview where they mentioned the upcoming Gaither Music release.

See the red carpet interview with Joey + Rory below.