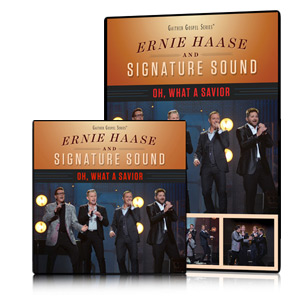 February 13, 2014
Press Release – New CD and DVD Recording, Oh What a Savior, Debuts Strong
Back to News
ERNIE HAASE & SIGNATURE SOUND
Top Sales Chart with All-New Releases
New CD and DVD Recording, Oh What a Savior, Debuts Strong
NASHVILLE, Tenn—February 13, 2014—
The all-new release, Oh What a Savior, from award-winning and GRAMMY®–nominated quartet Ernie Haase & Signature Sound hit the street last Tuesday, debuting this week at #1 on the Southern Gospel Album chart, #15 on the CCM chart and #181 on the Billboard Top 200 chart. The companion DVD landed at #1 on the Christian Music Video chart and at #3 on the Billboard Music Video chart, according to Nielsen SoundScan.
"These numbers tell us as a group to keep on doing what we are doing!" said Haase. "The emails, Facebook posts and Twitter feed surrounding this release have been an encouragement; and we appreciate the support of this release from our fans and loved ones."
The LIVE CD and DVD, recorded at the Carson Center in Paducah, Ky., has been airing on national tv networks including RFD, DISH TV, DIRECTV, TBN, Family Net, FFE, RURAL TV, TNN, Airtime, CTN, The Walk TV (formerly Legacy), TCT and TLN and also in Canada on Vision TV, CTS, Grace TV and the Miracle Channel. The DVD is also featured on Gaither TV (available on Roku, Google TV and the Internet). The group has discussed the new release in-depth on "Daniel Britt & Friends," (SIRIUS XM Satellite Radio), on the Solid Gospel Radio Network, in HOMECOMING Magazine and in The Singing News Magazine. They recently participated in a Google chat with Family Christian Stores and performed for The Munce Group at their bi-annual buyers convention.
Group members Ernie Haase, Doug Anderson, Devin McGlamery and Paul Harkey gave their "signature" renditions of Gospel standards such as "Swing Low, Sweet Chariot," "Heavenly Parade," "Up Above My Head (I Hear Music in the Air)," "Noah Found Grace in the Eyes of the Lord" and "Scars in the Hands of Jesus" as well as a new, crowd-stirring arrangement of "When the Saints Go Marching In."
In addition to popular favorites, the group recorded several brand new songs on the release and were joined throughout the evening by special guests including the trio Beyond the Ashes, Gaither HOMECOMING favorite Wesley Pritchard and Broadway sensation J.Mark McVey (Les Miserables) who joined the quartet for a chilling rendition of The Sound of Music standard "Climb Every Mountain."
The new CD, produced by GMA DOVE Award-winning producer and songwriter Wayne Haun, and the new DVD are exclusively distributed by Capitol Christian Distribution and are available throughout general market stores and the Christian marketplace in addition to online retailers including iTunes, Amazon and www.gaither.com.
For further information visit erniehaase.com or connect at facebook.com/ernie haase or on Twitter: @ErnieHaase.
Song listing-CD:
When the Saints Go Marching In
Heavenly Parade
Swing Low, Sweet Chariot
That's Why
Walk with Me
Scars in the Hands of Jesus
Noah Found Grace in the Eyes of the Lord
Glorious Day
Water Walking God
Shh, Be Still
Climbing Higher and Higher
Every Time
Climb Every Mountain (with J.Mark McVey)
Up Above My Head (I Hear Music in the Air) (with Wesley Pritchard)
Blue Again (featuring Wayne Haun)
Sometimes I Wonder
Oh, What a Savior

Song listing-DVD:
When the Saints Go Marching In
Heavenly Parade
Swing Low, Sweet Chariot
That's Why
Walk with Me
Scars in the Hands of Jesus
Noah Found Grace in the Eyes of the Lord
Glorious Day
Peace in the Midst of the Storm (featuring Beyond The Ashes)
Water Walking God
Shh, Be Still
Climbing Higher and Higher
Every Time
Climb Every Mountain (with J.Mark McVey)
Up Above My Head (I Hear Music in the Air) (with Wesley Pritchard)
Heavenly Parade (with Wesley Pritchard)
Blue Again (featuring Wayne Haun)
Sometimes I Wonder
Oh, What a Savior
Glorious Day (Reprise)
###
Celeste Winstead
CWinstead@springhillmusic.com
615-383-5535