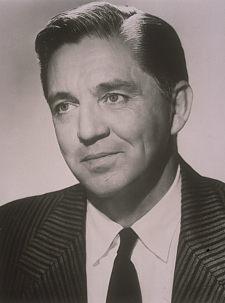 If you have listened to any Gaither Vocal Band or Gaither Homecoming recordings during the past few decades, you have heard the songwriting masterpieces of the late Stuart Hamblen. He was a poet unlike any other the gospel music world has ever known and his hymns will be sung for generations to come.
On April 18, this radio (KLAC) and movie star, singing cowboy, poet, politician, storyteller, and songwriter will posthumously receive his Sidewalk Plaque on Santa Clarita's Walk of Western Stars in Santa Clarita, CA on April 18, 2013 at 7:30pm.

Stuart was America's very first singing cowboy on radio, and appeared many times in western movies, often opposite the likes of Gene Autry, Roy Rogers, and John Wayne. He was also personal friends with each of them, so he appeared in several movies; sometimes as the main heavy opposite the hero, and sometimes uncredited because they needed someone who knew how to ride a horse! He was also an amazing songwriter, writing both country/western and gospel songs, and as one man put it:
"…he is probably our greatest contemporary hymn writer." – Billy Graham
He wrote classics such as: "It Is No Secret," "Until Then," "How Big Is God," "Let The Sun Shine In," "Open Up Your Heart," "Known Only To Him," "This Ole House" and a host of others.
"Few songwriters in the Christian field have ever achieved the level of success Stuart Hamblen did, not only in Christian circles but also in the secular world. Stuart was a model songwriter for Gloria and me and was a beacon of light for the world." – Bill Gaither
Stuart holds a number of unusual records. In 1945, he was the very first man to fly a horse by airplane (Nov 2, 1945; Flying Tigers Cargo; Bay Meadows, San Mateo, CA). In 1951, he ran for the office of President of the United States (Nov 4, 1952; Prohibition Party).
Today, Stuart's grandson, Bill Lindsay, runs the music publishing company his grandfather founded, and is still releasing Stuart's work. For more information on Stuart and his music, visit www.HamblenMusic.com.

In attendance at the unveiling will be Stuart's daughter, Lisa Hamblen Jaserie, grandson Bill Lindsay, granddaughter Kim Jaserie. For more information on the unveiling ceremony, please visit www.HamblenMusic.com, http://cowboyfestival.org/schedule or thursdaysatnewhall.com. Admission is free.
Click here to see George Younce singing "This Ole House".