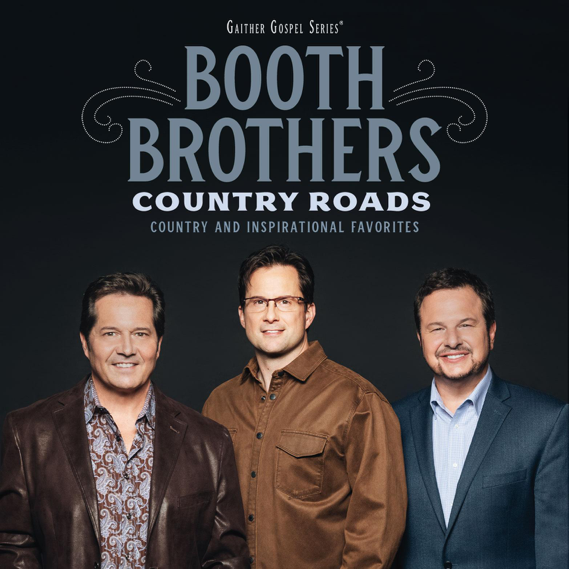 August 16, 2019
The Booth Brothers Release Country And Inspirational Album Country Roads
Back to News
Ronnie, Michael and Paul go back to their roots with Country Roads, Country and Inspirational Favorites, a recording that showcases this award-winning trio's seamless blends performing country classics. Influenced by artists such as The Statler Brothers, The Gatlins, Randy Travis, Don Williams, Hank Williams, Alabama and more, these gospel music mainstays tip their hats to some of their musical heroes, creating smooth renditions of these household favorites honoring faith and family.
The Booth Brothers' latest album was inspired by their love of listening to country music throughout their childhood.
"Growing up in Tampa, there were so many different musical genres; and one of our favorites was country music in the '70s and '80s—from The Statler Brothers, The Oak Ridge Boys, Alabama, Dottie West and more," said Ronnie Booth. "Our latest recording, Country Roads, was a labor of love. We went back to those roots, paid homage and tipped our hats to some of the people who influenced us."One of the most inspired tracks from the album, "I'm So Lonesome I Could Cry," took the Brothers back to a specific moment in 1986.
"In 1986, live on the Grand Ole Opry, Gary Morris recorded a version that he arranged of "I'm So Lonesome I Could Cry" that absolutely was the most stunningly beautiful thing we had ever heard," said Ronnie. "This arrangement is his; we just incorporated the harmonies into it. Talk about a well-crafted song and a heartfelt song. You read the Old Testament—the Psalms—and hear David crying out to God, 'Where are you?' and you hear the loneliness…every human being can relate to that in some form or fashion. And that's what we love about the lyric."
Listen or purchase Country Roads, Country and Inspirational Favorites here: https://gaithermusic.lnk.to/CountryRoads
Track List:
Mountain Music
Forever And Ever, Amen
Lord, I Hope This Day Is Good
High Cotton
Do You Know You Are My Sunshine
I'll Go To My Grave Loving You
All The Gold in California
Daydream Believer
Take Me Home, Country Roads
I'll Still Be Lovin' You
Three Wooden Crosses
I'd Choose You Again
Back Home Again
I'm So Lonesome I Could Cry
He Saw It All