The Gaither Vocal Band's brand new recording, Pure And Simple, released on September 11 and is now available in stores or through Gaither.com!
The Gaither Vocal Band, along with producer Ben Isaacs, spent months perfecting this incredible new recording! Now we are thrilled to offer you the opportunity to listen to the following sampling of music from Pure And Simple. Just click the 'Song Sampler' button below.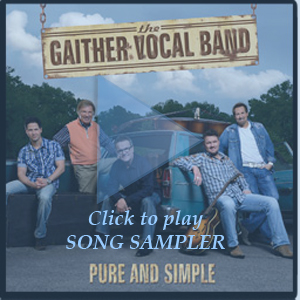 (Click the image above to listen to the song sampler now.)
The following photos were taken while Bill and our audio engineer, Chad Evans, were listening to the final mixes and Bill was deciding on the final song sequence for the recording (which you will find listed below).
Pure And Simple song listing:
Rasslin' Jacob
Come To Jesus
I Don't Want To Get Adjusted
Glorious Freedom
Whole Lotta Shakin'
The Love Of God
Do You Wanna Be Well
Winds Of This World
Rumormill
The Old Rugged Cross Made The Difference
Fool's Gold
Cup Of Sorrow
I'm Rich
I'll Pray For You
Sow Mercy
For more history on the making of this Gaither Vocal Band project, visit earlier stories at the following links: